Balers are used to push materials together and compact them so that they can be formed into bales, or block-like shapes, that are easy to stack and transport. In recycling facilities, recovered materials are put into a baling machine after being sorted. This way, entire bales of plastic or metal can be shipped to manufacturers to be melted down and reused for brand new products. Read More.....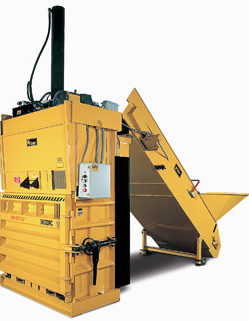 Some baling machines even come with the added feature of moisture extraction to remove residue that may be leftover. Cardboard, plastics and even metals may have been used as containers for liquids that leave traces on the material when it is going through the recycling center. Moisture extraction ensures that the bales are dry when they leave the facility.To begin creating a bale, a high volume of material is loaded into the input area of the machine. From this area, the material is led into a compression chamber where it is crushed and formed into a cube. Most balers are powered by electricity, but they use hydraulic power to compact and push material because this allows for a strong and consistent compressive force. After compaction, wire or strong plastic ties are then bound around the bale to hold it together while it is moved. Some balers can even be adjusted to create custom-sized bales. Since the bales are so heavy, a forklift is used to lift them and stack them or drive them directly onto a truck for shipping.For manufacturers in industries that use recycled materials to create new products, compact bales are very convenient. They can be stored for processing at a later time, and easily moved around a factory using a forklift. Most factories are at maximum efficiency during high production, so it is optimal to have large amounts of material that can be melted all at once.There are several types of balers, including:
Vertical Balers
A vertical baler is a baling machine which utilizes a vertically oriented ram to compact recycled materials. Materials can be loaded in a variety of different ways, but most vertical balers are loaded through a large compartment on the front of the machine, which is then closed during operation. Since they are vertically oriented, they usually take up far less floor space than other baling options. They are usually less expensive as well. Vertical balers are most commonly associated with cardboard baling, but they are capable of baling many different types of recycled materials and can be customized to fit specific requirements.
Horizontal Balers
Horizontal balers are balers equipped with a horizontally acting compression ram. This kind of baler is usually much larger than a vertical baler but has the added benefit of handling larger quantities of materials at one time and can even operate continuously. Horizontal balers can be fed manually or can be equipped with automated systems like conveyors and feeders to continuously feed materials into the compression chamber. Applications which handle high volume recyclables usually take advantage of horizontal balers as they provide greater material handling efficiency. These balers can also be designed to handle practically any recycled material, from paper to metals.
Two Ram Balers
A two ram baler is a style of horizontal baler which uses two horizontally oriented rams instead of just one. These balers are typically fitted with larger hoppers and feeding mechanisms, so that they can more quickly feed material into the compression chamber. With two rams, the baler can effectively compress bulkier materials and larger quantities of materials. In some cases, a two ram baler can eliminate the need for shredding, pulverizing, and other conditioning processes. In general, two ram balers allow recyclers to process more material, faster. However, since they are using two rams, they do require more room and more power.
Baler Informational Video